I recently spent around 3 weeks in Vietnam. We explored from far north, to down south. It seemed the north was more traditional, the south more touristy and modern. Let's start where we started, up north, just south of the China border.
Bac Son Valley was the way I pictured all of Vietnam. Quaint. Mostly dirt roads. Open air market. Kids playing in the streets. We did a home stay through Hello Vietnam Tours. Our host couple didn't speak any English but we were able to communicate just fine. (Charades at its finest.) A traditional stilts house is convenient to be above running water when the rains come but also for live-stock to get out of the weather. Our host family had two pet dogs* so there was no live-stock hanging out downstairs (*Yes, the Vietnamese have pet dogs.)
Rice wine shots were served with every meal (except breakfast). We knew when it was time to eat as the hosts put out mats for us to sit on the floor. Our host mama got up before dawn to prepare our food. The beds were thin mats on the floor and each 'room' was a series of drapes strategically hung for privacy. There were Party announcements on loud speakers once in the morning and again at night. The national anthem was played. Our hosts had been Communist Party members for forty years and love their country. They proudly showed us family pictures and government certificates from their life explaining as much as they could with the language barrier.
We visited a tiny village where they make roof tiles. It's a process that takes approximately six months and yields 40k tiles which comes out to about $1,800 profit. We were shown each step of the production from clay to final product. Everything was still done by hand, or in some cases, by foot. The women used wire bows and their feet to find and remove small stones from the clay. The workers stomped the clay into molds with their feet too.
Hanoi was my favorite. It was a happy balance of traditional and modern combined. Traffic on narrow streets lined with markets, shops, restaurants and spas were the norm. It was easy to find our way around and grabbing a Grab (their version of Uber) was simple. When you download the Grab app you get three free rides. There was five us traveling together so once each of us got the app… a lot of free rides. The average ride was only $4 so even if you have to pay, it's completely reasonable. Grab is nationwide too, so you can use it the whole trip.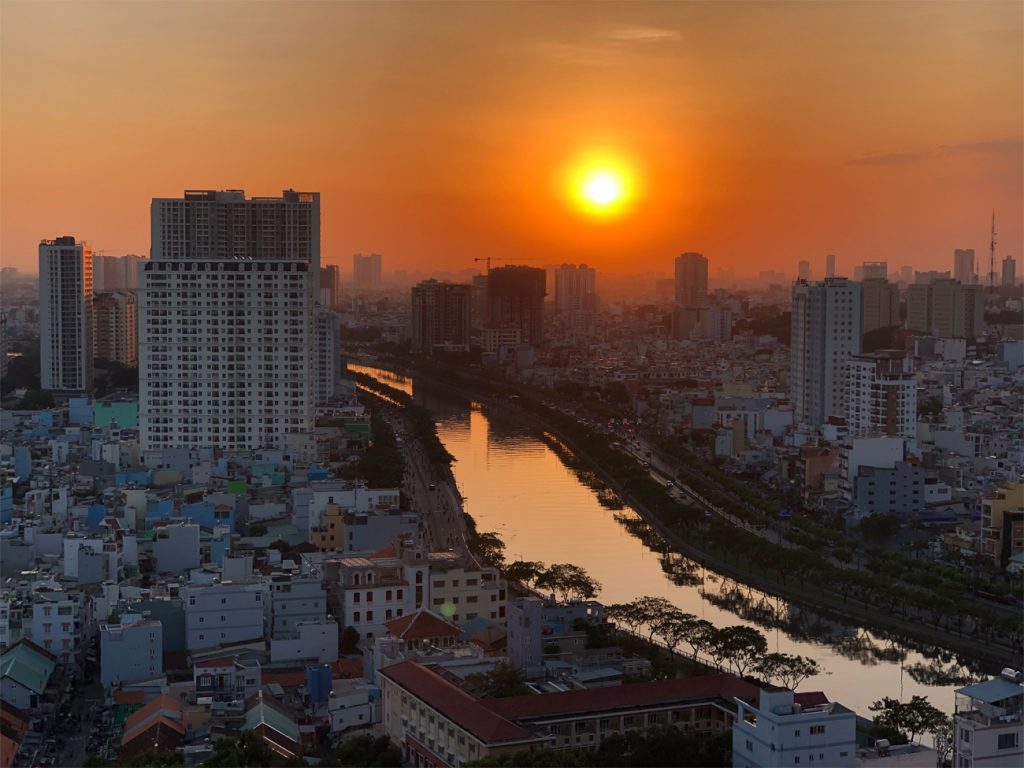 Da Nang is rich in history and culture. The Lady Buddha, Hai van Quan, is a must see! The beauty and energy there was spiritual. Monkey mountain is right there too. Watch out though, they can be aggressive. We did a Jeep tour that took us up the Hai Van pass where north and south Vietnam meet. There was plenty evidence of the American war, gun bunkers, etc.
After a lunch of the freshest seafood ever, our tour took us deep into the jungle where houses were part of the landscape and the river was natural water park for the locals. Family cemeteries could be seen behind or beside the houses. Water buffalos tethered in fields were also a common sight. Surprisingly, we had 5G! We saw some of the local kids playing on their phones. The cell service was stellar.
Hoi An's claim to fame are their clothes. There are dozens of tailors everywhere, the shop we used was called Shine and the ladies there were AMAZING! Shopping this way is seriously the only way to go. I'm a difficult size as I'm big but not necessarily fat so clothes for me have been difficult. The big'n tall store is too big, 'off the rack' too tight. But when you shop at Shine, you pick the fabric, the style, the neckline, the length, buttons or no. It's so fun! After a dozen measurements, the clothes are done the next day, once you try them on, they'll do adjustments if necessary. Super fun experience.
Ho Chi Minh City (previously Saigon) is a thriving international city with a non-stop chatter of horns from the nine million scooters on the busy streets. The food and bars seemed more expensive. This city caters to tourists. We stayed the first three nights at a hostel run by a couple twenty-somethings. We ordered our breakfast the night before and the hostel people would get up early and shop the local markets for the ingredients so it was always fresh. The restaurant choices there diverse and we ate everything from Italian, French and Korean to classic American dishes and of course, fantastic Vietnam fare. My favorite place to eat in Saigon was a restaurant called Hum. The first one we went to was near the War Remnants Museum. It was so impressive we found another near our hostel.
Before leaving for Vietnam, I googled 'bad Vietnam experiences' and after three weeks there, I have to wonder if the advice I sought was exclusive to that country or good old life hacks. These were the top three I feel were not useful information on any level.
Bring one dollar bills; the exchange rate is one US dollar equals 23k Vietnam Dong. The idea behind brining the dollars is bartering. We found the locals will accept ones as well as fives, tens and twenties but they don't prefer it. Their banks will only accept newish looking bills less than ten years old so they scrutinize the bills closely before accepting them. Everything there was reasonably prices so we didn't feel bartering was necessary.
Bring toilet paper; I'm convinced this is a life hack as there was as many public restrooms in the US without toilet paper as in Vietnam. Many of the public bathrooms have bidets. Push the buttons, it's nice.
Don't talk about the war; we found you don't have to, the locals will. We didn't ever feel we had to mention it as they were eager to share their stories with us about their experience. Visiting the museums are tough. They are heart-wrenching and leave you scratching your head to why it happened. That being said, it was educational to see the conflict presented from the other side.
A lot of people have asked me why we chose Vietnam as our holiday vacation spot, and my only answer is, 'why not?' Vietnam has a lot to offer in cuisine, scenery and culture and I recommend it to anyone who really wants to get off the beaten path as far as tourism goes and experience a culture like no other.