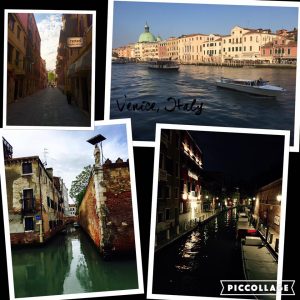 I'll never forget where I was when the doves cried. I had just boarded a jet, going to Europe, when I read Prince had died. The soundtrack of my first overseas flight immediately became purple, with a hint of blue. Rest in peace, Prince.
When I landed in Venice, Italy, the first thing I noticed was it looked a lot like Northern California, you know, right around Napa and Sonoma where wine grows on the vines perfectly. The weather was approximately the same for that time of year too, cloudy, cool and ready to bloom.
A cab from the Mestre, main land, to the island of Venice was next. The driver tried to explain to me with limited English that there were no cars in Venice and once he dropped me off, I would be on foot. A large expanded white bridge crested over the first canal. "That way." He pointed after I had collected my roller bag. Several men with orange vests that read 'official porter' were anxious for my business but I assured them I could manage.
The sidewalks were crowded. Boats cruised back and forth on the canal. I found the alley I was to go down for our hotel. It felt old and worn, like the cobblestones under foot. The room was small-ish. I'll admit, I've seen smaller, but for the two nights I'd be there, it was perfect. The view was terrible, it seemed our room looked into a courtyard that was used to store the items the hotel was not currently using, tools, machinery and supplies. Once settled in, I went back to the restaurant where the nice man had given me directions to my narrow, covert alley. It was early for the dinner crowd so I had the place to myself. When I eat out, often I ask the server what is good or what their favorite dish is, this night I asked my waiter, "If I could only have one meal in Venice, what would you recommend that is local and unique?"
"For you, American, I have just the thing."
The host that had seated me came over and asked in broken English heavily laden with an Italian accent if was sure I wanted to try what the waiter had ordered for me. "It is … um … how you say … strong." I smiled and nodded it was fine. My dish was a black spaghetti. Dark black with chunks of meat. A flavor most certainly of the ocean, it was indeed, STRONG. Half way through I asked, "How do they make it so black?"
"It is the ink of the squid." I was told. Yes, that's right squid ink.
Once dinner was over, I wandered through alleys and followed canals in and out, around and down, over and under bridges, taking in the sights and smells of Venice. The one thing that stood out as far as the aroma of the city was no matter what scent I was smelling, whether it a fruit stand, food from a restaurant or piss on the sidewalk, there was an ever present odor of cigarette smoke. It was the single biggest turn-off of this area.
At one point I heard music and a woman begin to sing, "I never meant to cause you any sorrow, I never meant to cause you any pain…" I jogged in and out until I found where the street musicians were playing and stood in the shadows and watched a small group of people hush and slip into a revered daze. "I only want to see you dancing in the purp-pal rain." I was moved to tears. When she was done I approached and told her thank you, the song was very moving. She smiled and said, "No English."