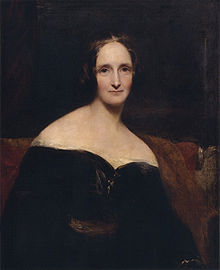 One hundred ninety-nine years ago today, Mary Shelley's Frankenstein was published – anonymously. There have been debates regarding the amount of influence Percy Shelley, her husband, had in writing that fictional masterpiece. In those days, women weren't taken seriously as authors and many, including Mrs. Shelly, wrote under their partner's names or used a pseudonym. Jane Austen was just as vague as Shelly publishing her first works under 'A Lady'. Sigmund Freud's daughter, Anna, often published her child-reading advice under her famous father's name so the guidance would be taken seriously by the reader.
More examples; Charlotte Bronte, the author for the famous novel Jane Eyre wrote for years under the name Currer Bell. Her sisters, Anne and Emily became Acton and Ellis Bell. Lousia May Alcott wrote several small fictional pieces under A.M Bernard until her most prominent novel, Little Women was released. It then made sense for a woman to write about women and seemed fitting for her to unveil her true identity.
In 1929, Virginia Woolf stated that in order to write, a woman needed her own income and her own room. (A Room of One's Own). She continued to predict during that time a women's revolution would occur due to the increase in literacy for middle-class ladies. We can all be grateful for this progression.
And here I thought I was so original to use my own initials and pseudonym when publishing but alas, I'm merely following a long-standing trend. Even though feminism and women's rights have cultivated in the writing profession, many have written under a gender neutral names throughout the decades.
One would correctly guess by the nature of the book that Mary Poppins was written by a woman even though P.L Travers could be either male or female. For the record, her real name is Pamela Lyndon Travers.
Joanne Rowlings was asked by her publicist to use a gender neutral name, J.K, to attract male readers. She commented she didn't care at that point what they called her, (Enid Snodgrass perhaps) she was just eager to get her novel, Harry Potter, out to the world. It was said she channeled 'her inner bloke' when she published The Cockoo's Calling under the pseudonym Robert Galbraith in 2013. It's really all about the reader not the writer, right?
Have you read any of Erika Leonard's work? Most likely you have, but would you have picked up Fifty Shades of Grey had she published under her full legal name instead of her initials and the made-up last name James? (Or her previous pen-name Snow Queen Ice Dragon?)
Some author's like Nora Roberts write under different names for different genres. J.D Robb is Nora's alter ego when she writes her true crime stories, In Death. When talking crime, a man would obviously be more of an expert in that field, right? Of course.
Recently I read a blog by an up and coming author Victoria Griffin. She wondered if she should be ashamed of her name due to the publishing industry's gender bias in which she showed proof. Her nickname growing up was Tori and in hindsight, she wonders if her works would have been better received had she published under a gender neutral name.
In a world where women make only a fraction of what their male counterparts make, is it any wonder we women are wanting to become anonymous… just like Mary Shelley did in 1818?