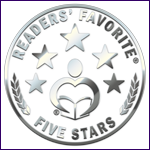 By Christian Sia for Readers' Favorite
What has faith got to do with love? Can two people with extremely opposite beliefs love each other and make it last? You'll find a surprising answer to such a dilemma in the exciting novel The Sinner's Club by DW Plato, an engaging story laced with drama and powerful lessons on life, love, race, and religion. The young, attractive Gaius Stewart comes to Pleasant, Utah, in search of the truth about his father after a confession made by his dying mother. But what he finds in this city is a warm, beautiful, and selfless woman, Elizabeth. A dizzying romance sparks between the two, but one thing could make staying together impossible: their beliefs. Gaius is a staunch atheist and Elizabeth has an unshakable, almost fanatical faith in the God preached by The Church of Latter Day Saints. Will either of them be able to lay down their beliefs for the burgeoning love they have for each other?
DW Plato's book is an engaging read and the reader is hooked from the very first pages. The story starts with action and a powerful hook, the protagonist's mother has just found out that she is pregnant and it's hard for her to reconcile being pregnant with her baby daddy's religious beliefs. In a community where the code of life is keeping the Lord's commandments and living "righteously," a love affair between a pagan and a believer becomes anathema. The reader wants to watch the drama and see what happens. Apart from the beautiful writing, the engaging plot, and the exciting cast of characters, Plato's writing covers a variety of themes, including racial problems and the divide, even in the heart of a religious community, between blacks and whites; hypocrisy, the power of love, and the absurdity of some beliefs. Gaius and Elizabeth are two compelling characters with solid backgrounds and it is interesting to see them fighting the odds to give victory to something they believe in. The Sinner's Club is one of those books that will entertain readers and invite them to rethink their beliefs. Highly recommended!