Sept 20th, 1973 at the Houston Astrodome was a literal game changer for women.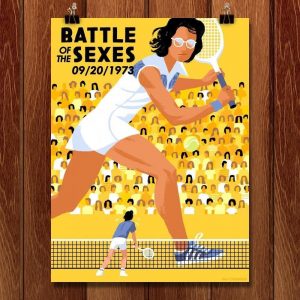 On this day 45 years ago Billie Jean King defeated Bobby Riggs in the widely publicized "Battle of the Sexes." There was a movie made a few years back with Emma Stone as King and Steve Carrell as Bobby Riggs, but since today is the 45th anniversary of the event I thought it was appropriate to write about it.
Battle of the Sexes – Pt. 1
Bobby Riggs was an ace tennis player who had won Wimbledon at the age of 21. He was a self-proclaimed "male chauvinist"  and believed women couldn't handle the pressure of a championship tennis match. He argued that even at his age, he could beat any female player. What a lot of people don't know is that his battle against King was the 2nd "Battle of the Sexes" tennis match. In 1973, Riggs saw an opportunity to both make money and draw attention to the sport of tennis. He originally challenged King but she declined. So at age 55 he came out of retirement to challenge Margaret Court who was 30 years old at the time and considered the top female tennis player in the world. The match took place on Mother's Day and Riggs easily defeated Court in what was referred to as "The Mother's Day Massacre." Riggs made the cover of Sports Illustrated and Time magazine. After witnessing this loss – Billie Jean accepted Riggs' challenge and they agreed to a match later that year in Houston, TX.
Billie Jean King – Battle of the Sexes Pt. 2
The match was a gigantic media event, witnessed in person by over 30,000 spectators at the Houston Astrodome and by another 50 million TV viewers worldwide. Billie Jean entered the arena dressed as Cleopatra riding atop a gold litter carried by men dressed as Egyptian slaves. Riggs playing his role – arrived in a rickshaw pulled by female models. Legendary sportscaster Howard Cosell called the match.
King ended up defeating Riggs 6-4, 6-3, 6-3. This achievement not only helped legitimize women's professional tennis and female athletes, but it was seen as a victory for women's rights in general.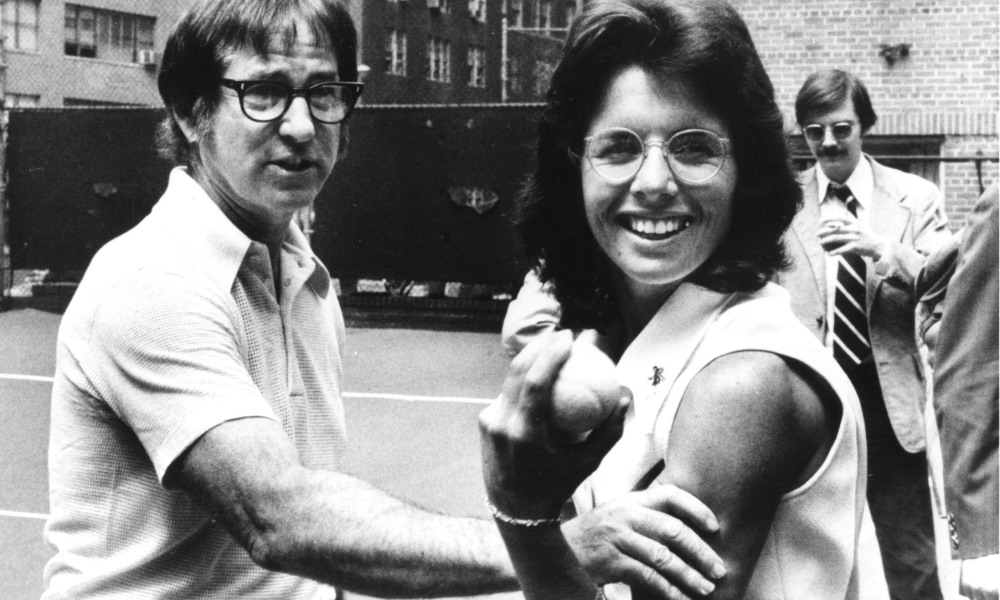 Billie Jean King – 1970's to 2018
After this legendary victory Billie Jean continued to break down walls for women. In 1973 Billie Jean became the first president of the Women's Tennis Association. She later established a sports foundation and magazine for women and a team tennis league. In 1974 she was coach of the Philadelphia Freedoms, one of the teams in the league, she became the first woman to head up a professional co-ed team.
Conspiracy Theories
The ESPN program Outside the Lines, made an allegation that Riggs took advantage of the overwhelming odds against King and threw the match to get his debts to the mob erased. The article featured a man who had been silent for 40 years who said he heard several members of the mafia talking about Riggs throwing the match in exchange for cancelling his gambling debt to the mob. The article stated Riggs' close friend and estate executor Lornie Kuhle vehemently denied Riggs was ever in debt to the mob or received a payoff from them.
Most people believed the program was an attempt to rewrite the success of King and give credence to Riggs' sexist supporters.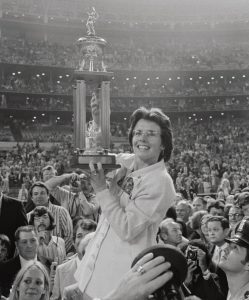 Billie Jean King: The Mother of Modern Sports
The "mother of modern sports" retired from tennis with 39 Grand Slam career titles. She remained active as a coach, commentator and advocate for women's sports and other causes.
In 2006, the USTA National Tennis Center, home of the U.S. Open, was renamed in King's honor. During the dedication ceremony, tennis great John McEnroe called King "the single most important person in the history of women's sports."
You can also find her on Twitter – https://twitter.com/BillieJeanKing
(sources: Wikipedia & History Channel)